Pandemic and Autism
Posted on April 10th, 2020 at 6:53 PM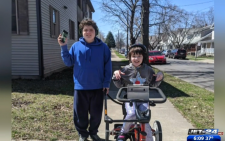 With schools being closed for the remainder of the 2019-20 academic year, children with intellectual disabilities and their families may find this disruption in routine particularly difficult.
Parents, like Hope Martinson, are getting creative with supporting their children with autism during the current COVID-19 pandemic.
After so much uncertainty for children and adults with intellectual disabilities, see what Hope and Dr. Maureen Barber-Carey have to say about coping and learning during these difficult times.