Inna's Story
Art Takes Shape
"Inna was very shy when she started, but she has really flourished. She is definitely more social and open," said Violetta. "Doing something productive has made her happier."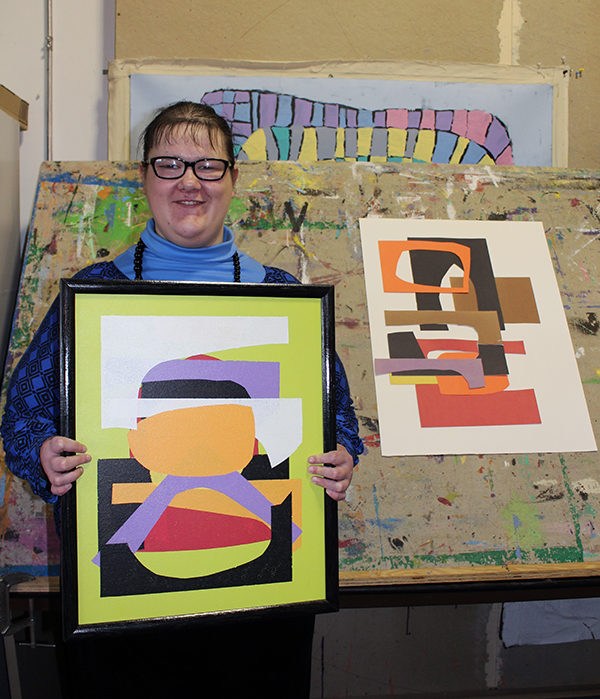 For some artists, a paint brush, a lump of clay or a camera opens a world of creativity. For Inna Dovbush, it's a pair of scissors.
Inna, who immigrated to the United States from Ukraine with her family, entered a day program at the Barber National Institute in 2011.
Violetta Galustyan was a program supervisor when Inna began attending. "She was very shy when she started, but she has really flourished. She is definitely more social and open," said Violetta. "Doing something productive has made her happier."
Inna particularly liked making greeting cards, gift bags and other items that were sold in the Gift Shop. One day, Fine Arts Supervisor Frank Fecko noticed her doodling during breaks in her schedule. The drawings were so intriguing that he wanted to find a way for Inna to express her obvious talent on a larger scale.
Inna tried painting but found it difficult to manipulate a paintbrush. When Frank saw Inna successfully using scissors to cut shapes, he had an idea. "I gave her blank sheets of colored paper and she began cutting out shapes and arranging them in interesting ways," said Frank. "She really has her own style that makes her art so unique and appealing."
To create her artwork, Inna selects the colors of paper and cuts out 15 to 20 shapes, ranging from rectangles and circles to more abstract shapes. After she lays them out on a canvas, Frank makes stencils of each shape, places them in the arrangement Inna made, and masks out around the stencil. Inna then uses a large sponge to paint within the masked off area.
"She usually applies two or three coats of paint to get the coverage she wants," explained Frank. "She really enjoys using the hair dryer to dry each coat of paint before applying the next one."
The whole process takes two weeks of daily work, but the results pay off. A local principal purchased Inna's first piece at the Ladies Only Luncheon and it now hangs in the school's conference room.
Facilitating expression – using each individual's abilities to create unique work – is how Frank views his role in the process that can be different for each artist.
Inna's paintings, as well as several individual and collaborative pieces created by adults in the Fine Arts Program, will be for sale alongside the work of community artists at the Art Show. It's an opportunity no art appreciator will want to miss.