Elizabeth Lee Black School - An Approved Private School
The Elizabeth Lee Black School offers a range of educational program choices designed to help all children achieve their greatest potential. We offer educational programs that include:
Therapy and Support Services
Extended School Year
Our school is specially designed to provide a highly structured classroom environment which allows children with significant disabilities to develop to their fullest. Each day the children participate in educational activities presented within a very predictable routine in order to confidently practice new skills. Each student's IEP directs their learning experiences, which integrate a variety of activities throughout the school day, to address their academic, behavioral and therapeutic needs.
Elizabeth Lee Black School Continuity of Education Plan
The Pennsylvania Department of Education has asked us to share our Continuity of Education Plan that addresses educational practices that occur when schools are closed for an extended period of time.
The goal of the Elizabeth Lee Black School plan is to support our students in maintaining and developing skills while they are away from the traditional school environment.
Our Plan follows the mission of the Barber National Institute of "Making dreams come true." We are providing parents with weekly educational activities and therapies along with ongoing contact with our faculty.
As we serve a very diverse group of learners, all of our programs are individualized and designed based on each students' strengths and needs. We are consulting with parents to determine the most appropriate ways to meet their child's learning needs during this period of closure. No two programs may look alike.
We are available to answer your questions regarding the plan. During these challenging days, we remain committed to providing families with the education and support that they need.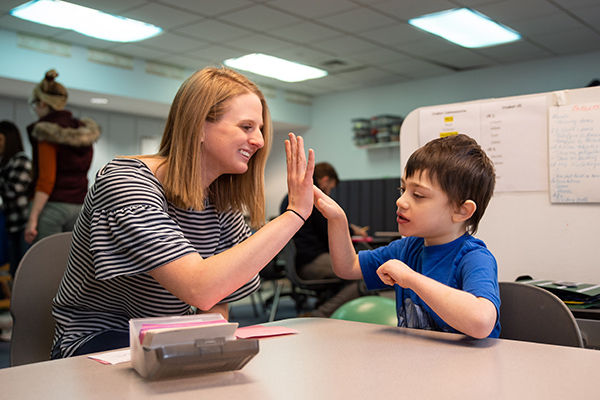 The American Rescue Plan Elementary and Secondary School Emergency Relief ("ARP ESSER") Fund requires that organizations receiving ARP ESSER make their plans for the use of these funds available on their website for public viewing. Click here to view the Elizabeth Lee Black School grant plan.
In compliance with regulations from the Pennsylvania Dept. of Education, the Elizabeth Lee Black School has a detailed plan in response to Covid-19 to ensure the health and safety of our students and faculty. The plan is reviewed and updated every six months, and approved by the Barber National Institute Board of Directors.
School Health & Safety PlanOnline Learning ActivitiesParent InformationContact Us
A Wide Range of Innovative Services Including:
Nursing
Assistive Technology
Certified Teachers
Behavioral Services
Handwriting without Tears
Physical Therapy
Occupational Therapy
Speech
Art
Vision
Library/Media
Wellness Program
Psychological Services
Adapted Playground
Integrated Technology in all Classrooms
Touch Screens
iPads
Tap-It
Gym
Advanced Fitness Program
See what's new in our therapies and other special
services in our new school blog
ELBS Spotlight.