ODP Deputy Secretary Fred Lokuta Visits
Posted on May 29th, 2013 at 5:48 PM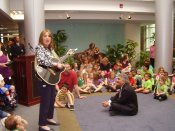 "I've never in my life witnessed such an organization where there was so much of a commitment, and passion for what you do. You epitomize what it means to care about people."
These comments were delivered by Fred Lokuta, Deputy Secretary of the Office of Developmental Programs, to staff, students and adults at the Barber National Institute on Wednesday, May 29. Dep. Sec. Lokuta and a group of other state officials were greeted with a brief welcome program in the Institute's north lobby before meeting with parents and touring the facility.
This marked a return visit for Lokuta, who first came to the Barber Institute in March. During the most recent visit, he said that he had very often heard about the Barber National Institute during his nearly 30 year career in human services, but that he was "amazed" by the work that he saw here. "That was the most profound visit of my career," said Lokuta. "It left me with a profound impression, and I talked about what I experienced with others in Harrisburg."
Two of those colleagues, Clint Eisenhower and Mark Knouse, and David Mitchell from Governor Corbett's northwestern office joined Dep. Sec. Lokuta in the meetings with Barber Institute administrators, as well as a group of parents who discussed issues relating to their adult children with disabilities. The group also toured the Elizabeth Lee Black School and joined students for a Kids on the Block Puppet show featuring a troupe of life-size puppets that teach children about disabilities.
Dep. Secretary Lokuta said he hoped that staff would consider the day as a reason to celebrate.
"You should take this opportunity to think about think about what you do for others, and you should all should be so proud."