Large Audience for Senate Roundtable
Posted on December 14th, 2012 at 8:33 PM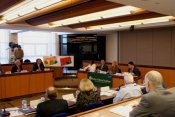 A large crowd of providers, families and consumers offered powerful testimony this morning at a roundtable discussion with members of the PA Democratic Senate Caucus. Special thanks to Senator-Elect Sean Wiley for organizing the panel that included Sen. Lisa Boscola, (D-Northampton/Lehigh/Monroe), who chairs the Policy Committee; Senate Democratic Leader Jay Costa (D-Allegheny); and LeAnna Washington (D-Phila.).
Much of the discussion focused on the Department of Public Welfare's reclassification of Erie County from an urban to a rural county, which has resulted in Erie county providers being reimbursed at the lowest level in the state.
"This issue transcends the Barber National Institute, and transcends providers of services to individuals with disabilities," said John Barber, president and chief executive officer of the Barber Institute. "The reason that it is resonating in Erie is that it is inconsistent with the image, perception and reality of Erie's role as an urban, educational, medical and manufacturing center. It will have an effect on more than just those in human services."
Bob Will, chief operating officer at the Barber National Institute, said that providers have asked the DPW to look at the formula that was used to determine classifications and recognize the many factors that differentiate Erie from rural counties.
Sherrie Gross, Erie County Human Services Director, added that the reclassification is already affecting agencies that serve other populations, including senior citizens. "What we feared would happen is happening…it is permeating to other agencies," said Gross.
Many panelists and audience members also addressed several other issues, including a controversial decision to replace the state's 37 financial management service vendors with one Massachusetts-based firm.
"Bureaucratic decisions arbitrarily issued by the Department of Public Welfare (DPW) in Harrisburg have needlessly made disabled people's lives more difficult," Wiley said. "Rectifying these cuts in state support to Erie County cannot wait until next year. This needs to be addressed immediately."
Other elected officials in attendance included State representatives Pat Harkins and Flo Fabrizio, as well as representatives-elect Ryan Bizzaro and Gregory S. Lucas. Erie county council members included Phil Fatica, Fiore Leone and Joe Giles.