Jewelry Purchase Can Make a Difference
Posted on November 14th, 2017 at 2:07 PM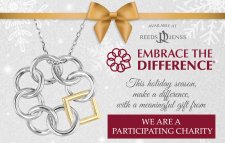 Shoppers can make a donation to the Barber Foundation with every purchase of "Embrace the Difference" jewelry,
The high quality jewelry features a symbol of interconnecting circles joined by a square, showing we are all connected no matter what difference we may have. "It is a powerful reminder to be kind and accepting, for we are all fighting our own battles," said Robyn Zimmer, the jewelry designer who founded the company.
Zimmer was inspired by Sam, her son with special needs, and designed the symbol to "show support, acceptance and kindness no matter what differences we may have."
"Embrace the Difference" features a large selection of necklaces, earrings, bracelets and other accessories, as well as artwork. New items are also being released for the Christmas holiday.
Buyers can shop for the jewelry at any Reeds Jenss store location or shop securely online at https://reedsjewelers.com/embrace-the-difference
After making a selection, buyers can indicate that a portion of the sale be donated to the Dr. Gertrude A. Barber Foundation.