Highmark Supports 2013 Events with $5,750 Donation
Posted on July 18th, 2013 at 12:56 PM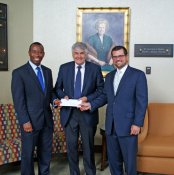 Highmark Blue Cross Blue Shield recently made a sponsorship contribution of $5,750 in support of two Barber National Institute events, which benefit the programs and services we provide to more than 4,200 children and adults with disabilities throughout the Erie, Pittsburgh and Philadelphia regions.
Highmark's Neil Parham, senior community affairs specialist, and Matthew Potosnak, senior client manager of Strategic Accounts, presented the donation to Gary Bukowski, vice president for Advancement at the Barber National Institute. The donation includes a $750 sponsorship for the 2013 Shillelagh Golf Tournament and a $5,000 sponsorship for the Christmas Ball to be held in December.
The Institute is no stranger to the company's generous corporate giving -- Earlier this year, Keystone Health Plan West – a Highmark Company donated $23,500 through the Educational Improvement Tax Credit Program to fund preschool scholarships to qualifying students.
If you or your business is interested in making a gift to the Barber National Institute, please contact Gary Bukowski, CFRE, at 814-878-4033 or GaryBukowski@BarberInstitute.org.