Connections Camp Enjoys ExpERIEnce Children's Museum
Posted on July 11th, 2014 at 2:58 PM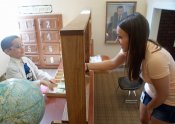 Between playing doctor, exploring, reading, and running through a cave, we all had quite the day at the ExpERIEnce Children's Museum.
Many children in our Connections Camp enjoyed the day at the facility, which offers visitors three floors of hands-on, interactive exhibits. Check out our Facebook page, https://www.facebook.com/BarberNationalInstitute, for more pictures from the day!


Connections Camp will continue with taking fun field trips. Look for trips to Claytopia and Jerry Uht Park!