Apple Crunch Promotes Healthy Habits
Posted on October 25th, 2012 at 7:17 PM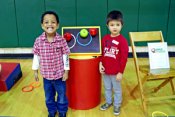 An apple a day may keep the doctor away, but the popular fruit kept students busy with fun activities at the Barber National Institute. Students and teachers in the Elizabeth Lee Black School celebrated the Great Apple Crunch on Thursday, October 25 in the Gym.
Students visited different stations that used apples to promote fitness, fun and healthy eating habits. Some of the activities include apple peeling; apple tasting with dips, applesauce, and cider; craft time that included apple sponge art; and an apple target toss. Apples for the event have been donated by Godfrey Run Farms in Lake City.
The Apple Crunch is one of the activities encouraged by the Pennsylvania Advocates for Nutrition and Activity (PANA), a statewide coalition working with schools and communities to promote healthy eating and physical activity. The Barber National Institute holds wellness activities throughout the school year, and has instituted a year-round walking program for all classes.