Services for Children
The Barber National Institute in Erie, PA offers a wide-range of services for individuals with disabilities and mental health challenges from birth through adolescence and the teenage years. Ours services are designed to meet the needs and challenges for each individual and family.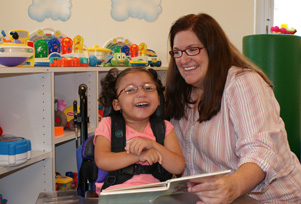 Clinical Disability Services
At The Barber National Institute, we offer a variety of clinical services for children with disabilities including:
Educational Services: Private School for Children with Disabilities
The Elizabeth Lee Black School is an approved private school that provides preschool and school aged children with programs to meet the needs of students. Our faculty implements state-of-the-art services to achieve the highest quality of education for our children.
Camps for Children with Disabilities
The Barber National Institute offers Camp Shamrock, a summer recreational camp for children with intellectual disabilities. During the school year we also offer Time for Me, a recreational Saturday afternoon program for children with autism and intellectual disabilities.