"Celebrities" Tend Bar for Beast Event
Posted on March 3rd, 2016 at 6:08 PM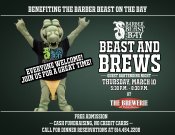 Thursday, March 10, is exactly six months to Barber Beast on the Bay, and we are coming together to celebrate with a celebrity bartending event at The Brewerie at Union Station. The community is invited to join us between 5:30 – 8:30 p.m. for a friendly competition among our celebrity bartenders, drink specials and other activities.
The following guest bartenders from Beast teams will be on hand to serve drinks for a good cause:
5:30
Dahlia Hunter - Nietupski Law Woof Pack
Vicky Acosta - Fireball
Andy Blakely- Bob Blakely's Babes
6:30
Eileen Tigue - Christine Caserta's Team
Emily Kern - Power Beasts
Amy Machinski - Fire Breathing Rubber Duckies Part Tres
7:30
Steven Krauza - Super Friends
Anthony Morelli - Morelli Fitness Results
Virginia Sawdey - Wegmans
Anyone who registers for this year's Beast on the Bay will receive a Beast goodie bag with fun items and be entered for a chance to win a $100 Visa gift card. But you don't have to participate in the Beast to attend – everyone is welcome and encouraged to come out for a good time!