"For Tina Dinger, the ability to paint is one of the joys of her life."


Looking at Tina Dinger's paintings, it's hard to believe that, until three years ago, she had never even held a paint brush. Today, Tina's artwork is one of the most important things in her life.
Tina first expressed a desire to paint after seeing her friend create beautiful flowers on the canvas. But, having never painted before, she was hesitant to try something new. At an initial assessment, Fine Arts Director Frank Fecko saw that Tina was able to draw common shapes such as circles and stars, and proficiently write numbers and letters of the alphabet. This became the foundation for her artwork. The letter U became the outline of a flower pot, an open D the basis for a moon. "She has a very definite image of what she wants to draw in her mind," explains Frank. "So, we break down each element, and then put them together to project into a finished piece."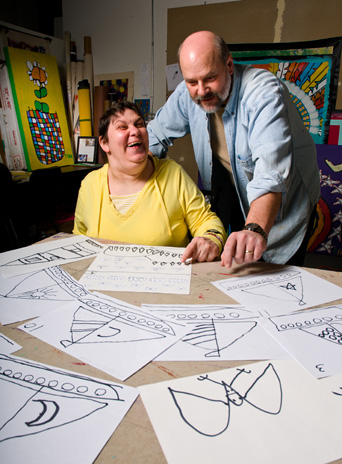 Because of Tina's physical challenges, she is not able to paint in a small format. So, after she draws the images on an 8 ½ x 11 sheet of paper, Frank projects them on a screen to the size that she wants to work on. He chalks off the image and Tina gets to work.
Tina's artwork is known for a distinctive style that features cheery themes and bright colors. The optimistic spirit that shines through her art is achieved through weeks and often months of painstaking work to fulfill her vision for her piece. "Painting has given her new confidence and self esteem as she has found something important that she wasn't able to do before," said Frank.
Tina has also sold several of her paintings—providing her with a financial, as well as an artistic reward.