Support for Children Who Are Deaf or Hard of Hearing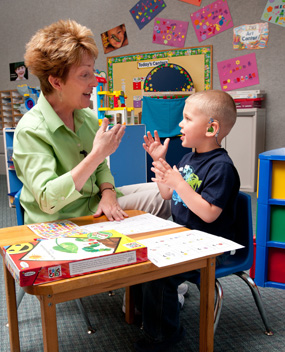 "At just two weeks of age, Joshua Cagara was diagnosed
with a severe hearing loss in both ears.
That didn't stop him from becoming an active preschooler."
As a newborn, Joshua Cagara failed the hearing test routinely administered in the hospital, and was soon diagnosed with a significant hearing loss in both ears. Within a few weeks, he began early intervention at the Barber National Institute.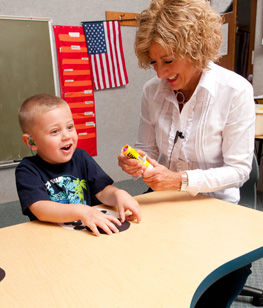 Audiologist Dr. Janet Trychin worked with the family to help Josh learn about his environment and promote communication. When he said his first words, his mother saw how their efforts paid off. "He started talking and you could really understand him," said Shae Cagara. Joshua now attends Happy Hearts Preschool in the inclusive classroom for children who are deaf or hard of hearing. There, he enjoys books and art projects, and is often the first to raise his hand when his teachers ask a question.
"Josh comes home very excited about his day," said Shae. "He tells me about everything that he has done and about his friends." Joshua continues to receive speech therapy during the school day with speech therapist Pam Goetz. Shae is still grateful for the support she received during Joshua's first few years.
"I came to consider Janet a friend and still call her when I have a question," said Shae. "She has a passion for her job and made this journey so much better for us."