Bollinger Becomes Campus of Barber National Institute
Posted on July 1st, 2020 at 1:03 PM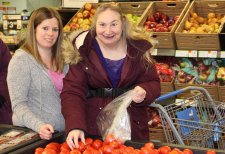 A new member has been officially welcomed into the Barber National Institute family. The merger with Bollinger Enterprises (BEi) became official on July 1, 2020. The organization serving adults with intellectual disabilities in Warren- Forest counties is now the Bollinger Campus of the Barber National Institute.
The merger began with an affiliation announced in August, 2017, and is expected to further enhance and expand opportunities for adults with disabilities, including services that broaden community based employment and inclusive activities in the Warren region.
"In the months leading up to our affiliation, it became clear that our two organizations share very similar values and history," said John Barber, president and chief executive officer at the Barber National Institute. "In melding our resources and expertise, we look forward to ensuring greater stability that will help to better meet the varied needs of adults and families while continuing to play a key role in Warren and Forest counties."
Bollinger has already transitioned many of its operational processes to Barber National Institute systems, including functions for staff timekeeping, payroll, accounting and client electronic records. The merger is expected to enable Bollinger staff to further expand professional training and development and support the organization in mitigating rising operating costs and meet ongoing changes in regulatory requirements.
Bollinger launched a three-year capital campaign drive in November, 2019 to renovate its facilities at 44 N. State Street in North Warren. Barber emphasized that all donations raised in the capital campaign will remain in Warren to be used for the project, which includes expansion of program facilities.
Bollinger was founded in 1978 by Annabel and Clifford Bollinger as a pilot project of the Warren – Forest Counties Association for Retarded Citizens (ARC.) Currently, Bollinger offers facility and community-based day programs serving more than 110 adults.
When they established the organization more than 35 years ago, the Bollingers consulted with Dr. Gertrude A. Barber, an Erie educator who founded the Barber National Institute in 1952. Dr. Barber met with the Bollingers and parent groups in the late 1970s to discuss the formation of services for adults with disabilities.
"We are so honored to be carrying on this tradition that began with the Bollinger family, and look forward to continuing their mission of service in the Warren region," said Barber.
BEi currently serves 110 adults annually with day and job development services, and employs more than 40 staff who will now become employees of the Barber National Institute.