Visiting Santa in a Sensory Friendly Way
Posted on November 2nd, 2018 at 3:32 PM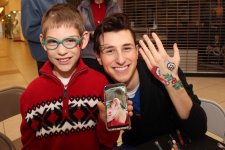 Visiting a shopping mall can be challenging for families of children with autism or other special needs — particularly around the holidays. To make the experience less stressful, the Barber National Institute is sponsoring a Sensory-Friendly Time with Santa on Sunday, Dec. 2, from 9:30-11 a.m. at the Millcreek Mall (in the concourse near H & M Clothing.)
This event is an opportunity for children and families to enjoy their visit outside of Santa's regular hours and music will be turned off, creating a less stimulating and calmer atmosphere.
"Some children with autism can handle the energy of a busy mall around Christmastime, but many others have a hard time tolerating the intense sounds and sights," said Dr. Maureen Barber-Carey, executive vice president at the Barber National Institute. "We have worked with the Millcreek Mall to set aside a time outside of their usual hours to create an experience that reduces the stress for children and their parents. Many parents have said that this was the first time that their child has been able to have a visit with Santa."
Parents will receive a number to be called when it is their child's turn to see Santa. While they wait, youngsters can enjoy activities such as face painting, holiday crafts, and games on an iPad. Information and resources will also be available for parents.
For more information, please visit BarberInstitute.org/events or call 814-878-5903.