Submission Dates Set for Art Show
Posted on March 8th, 2012 at 8:52 PM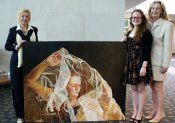 Artists are invited to submit their work for the Dr. & Mrs. Robert Guelcher 6th Annual Art Show & Sale at the Barber National Institute.
Entries will be accepted on Thursday, March 7 from 8:30 a.m.-6:00 p.m.; Friday, March 8, from 8:30 a.m.-4:00 p.m.; and on Saturday, March 9 from 10:00 a.m.-2:00 p.m. in the Institute's north complex off of East Bay Drive.
Awards will be presented in categories for adult amateur and adult professional artists, as well as youth artists. Artwork may be in a variety of media, including watercolor, pen and ink drawings, sculptures, collages, or mixed media. New this year is a separate awards category for photography.
Artists may submit up to two pieces, although only one may be chosen for exhibit. All entries must be framed and delivered ready for hanging; artists must also indicate a purchase price if the artwork is available for sale. The entry fee for adult artists is $10 per entry; all youth artwork is submitted free of charge.
The Art Show will be held April 12-15; admission is free of charge.
More information is available in the Call for Entry forms by calling 874-5603 or by clicking here.