Students Test New iPad App at BNI
Posted on March 29th, 2012 at 6:59 PM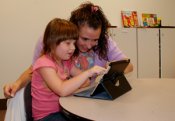 The Elizabeth Lee Black School served as a test site this week for a new iPad application designed to help children with autism and other disabilities learn skills for daily living. The developers of "Popchilla's World" visited the Barber National Institute on Tuesday, July 31 to test the game with two classes for preschool and elementary age students.
The app was developed by Interbots, a start-up gaming company headquartered in Pittsburgh. Over the past year, computer programmers from Interbots have been consulting with faculty at the Elizabeth Lee Black School in various aspects of the game design.
"We have seen that the iPad is very effective at helping children with autism and other intellectual disabilities learn and develop new skills and abilities," said Dr. Maureen Barber-Carey, executive vice president of the Barber National Institute. "This technology is opening up new worlds and our faculty and staff are always looking for innovative ways to use it to benefit our students and adults."
In the game, a friendly creature named "Popchilla" needs the child's help to complete every day activities such as brushing its teeth, making its bed or even saying "hello." As children successfully complete these activities they are rewarded with in-game reinforcers and new activities to explore.
"Popchilla's World" is expected to be available for sale later this year in Apple's App Store and will also have a version available for android use.