Students Create Social Stories through Artist-in-Residence Program
Posted on January 16th, 2014 at 5:13 PM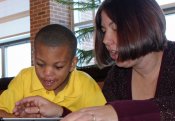 Students in the Elizabeth Lee Black School are using iPads to become artists, photographers and story tellers through their experiences with a long-term Artist-in-Residency this school year. The youngsters shared their projects, created with digital artist and filmmaker Jude Shingle, in a presentation for parents, sponsors and classmates on Thursday, Jan. 16 at 10 a.m. at the Barber National Institute.
Since September, Shingle has been working with students and faculty to develop individual "social stories," a short visual narrative that helps a student learn to how respond in common social situations or develop basic life skills. Students created stories with iPad applications that enabled them to take photos, illustrate, and make audio and video recordings.
Some of the stories are helping students learn how to appropriately greet someone or ask for a break, or how to act in the Library or other settings. "One student, in particular, has used his social story to learn how to wash his hands," said Cindy Priester, education coordinator at the Elizabeth Lee Black School. "He is now successfully completing all of the steps of washing his hands without any reminders or 'prompts' from the staff. This is really a major step forward and opens up many possibilities for future lessons."
In addition to teaching students how to use iPads to create their stories, Shingle said that a major focus of this arts residency was also to teach the faculty how to use the tablets and various applications. "In this way, teachers can continue to develop this approach to teach new lessons and create more stories," said Shingle.
Thirty students ages 8-21 with autism and other intellectual disabilities were involved in the residency this fall. The Barber National Institute has submitted an application to provide the residency next fall with other students. In addition, teachers will be collecting data to determine how effective the social stories are in teaching new skills to students.
Social stories are a commonly used tool for helping students learn social cues and responses for many situations. They break down challenging social situations into understandable steps, and help youngsters model appropriate behavior by describing a situation with relevant social cues and a suggested appropriate response.
The Artist-in-Residence program was funded by First Niagara Bank, ArtsErie and the Dr. Gertrude A. Barber Foundation.