Staff & Adults Support Troops
Posted on February 14th, 2020 at 3:14 PM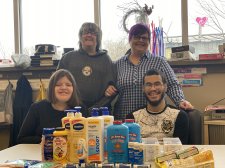 Staff and consumers from the Community Participation Supports program came together to give back to our troops overseas. A care package was put together and sent to Benjamin DeSanti and his platoon which is on active service.
The care package project was orchestrated in part by Ben's mother, Michelle Roberts, and four other staff members from Building 99. Together they donated to purchase items for the care package, consisting of sunscreen, toiletries and personal care items.
Lending a helping hand were four adults in the CPS program: Aixa, Sara, Jessica and Andrew. They went to Walmart with their staff and selected each item to send. They even got to hand-deliver the care package to the post office where they watched as it was sent off to Ben's platoon.
This is just another wonderful example of how the CPS program not only aids in community inclusion, but how our consumers and staff can support those outside of the community.