Sensory-friendly Time with Santa Creates Memories
Posted on December 8th, 2014 at 9:06 PM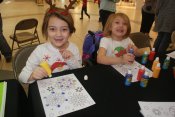 A visit with Santa is one of childhood's cherished memories—for children and for their parents. But parents of youngsters with autism or other special needs know that the stimulation of a mall crowded with holiday shoppers can turn a fun outing into a difficult experience.
To meet the needs of children with autism and other intellectual disabilities, the Barber National Institute sponsored a Sensory-Friendly Time with Santa on Sunday, Dec. 7 from 9:30-11 a.m. at the Millcreek Mall.
This event provided a low-key environment for children and families to enjoy their time with Santa. It took place outside of regular visiting hours and music will be turned off, creating a less stimulating and calmer atmosphere. Families received a number when they arrive, and children could play until their turn was called. To make the experience with Santa even more memorable, the Barber National Institute will offer face painting and holiday crafts for the children to create.
"Many children with autism have a hard time tolerating all of the sounds and sights that are common around Christmastime," said Dr. Maureen Barber-Carey, executive vice president of the Barber National Institute. "Eliminating a lot of the stimuli, such as long lines and loud music, makes the experience less stressful for the child—and of course for the parents."
Additional Photos