School to Transition to Remote Learning after Thanksgiving Holiday
Posted on November 23rd, 2020 at 2:05 PM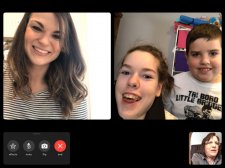 The Elizabeth Lee Black School at the Barber National Institute will temporarily close for in-school instruction as of Wednesday, November 25 and transition students to remote learning. While our school is not experiencing positive cases at this time, the Pennsylvania Department of Education recommends that schools transition to remote instruction if the community is experiencing a "substantial" level of virus infection over a sustained period of time.
Remote learning is expected to continue from November 30 through December 11. The Barber National Institute is working with the Erie County Dept. of Health to closely monitor the positivity rate and may extend the closure if warranted. Families and staff will be notified of any updates to the re-opening date.
School administration urges families to continue to follow all recommendations for reducing the spread of the virus, including mandatory wearing of face coverings, practicing social distancing, frequent hand washing, limiting exposure to persons outside of your immediate household and remaining home when sick.
The Elizabeth Lee Black School serves more than 240 students ages 3 – 21 from 22 school districts in Northwestern Pennsylvania.
For detailed information about the School's preparations and response to the Covid-19 pandemic, visit at the comprehensive plan at BarberInstitute.org/school.