Renovations Provide Room to Change
Posted on November 13th, 2017 at 1:56 PM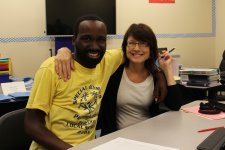 Frank Fecko has been teaching painting and other fine arts at the Barber National Institute for 30 years. His studio, where his students are Barber Institute clients with intellectual disabilities, just got an upgrade.
A $4.2 million renovation of the institute's adult day services building, at the foot of East Avenue, removed walls and updated the space with new lighting, electrical and heating and cooling systems and other features.
Fecko's studio, which is in the middle of the building, got bigger and brighter.
"The big difference is the openness," said Fecko, 64.
"It's perfect," he said. "I love the lights. The old lighting changed the colors — it was yellowish. This doesn't. You get the true colors."
Read the rest of the article on GoErie.com here