Play Caps Collaboration with Erie Playhouse
Posted on March 24th, 2013 at 7:00 PM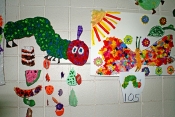 "On Saturday, he ate through one piece of chocolate cake, one ice-cream cone, one pickle, one slice of Swiss cheese, one slice of salami, one lollipop, one piece of cherry pie, one sausage, one cupcake, and one slice of watermelon…

…That night he had a stomach ache."
Students in the Elizabeth Lee Black School took to the stage to perform their rendition of The Very Hungry Caterpillar on Friday, March 22 at the Barber National Institute. Staff, faculty and families gathered in the gym to watch the performance, which concluded a program with the Erie Playhouse to provide students opportunities to participate in the performing arts.
The production of Eric Carle's beloved children's classic follows a young caterpillar as it eats its way through the stages of growing into a beautiful butterfly.
Through the program, volunteers and staff from the Erie Playhouse joined faculty from the school to teach preschool and school-aged children basic performance skills. Others created colorful artwork for backdrops and set decorations.
This marks the fourth year for the program, which is funded through ArtsErie and the Schuster Re-Grant Initiative with Gannon University.