Ladies "Come Together" for Garden Party
Posted on May 16th, 2014 at 2:26 PM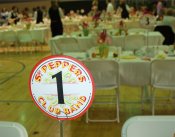 You "Can't Buy Me Love," but with a "Ticket to Ride" you could buy a fun time at the Barber National Institute's Beatles-themed Garden Party on Thursday.
The Garden Party's theme was "Here Comes the Sun" in an ode to the Beatles' 50th anniversary. Spring and summer fashions from Bridal Elegance, Chameleon and Point Foure gave a nod to the time period with just a hint of grooviness intertwined with modern looks. The Garden Party signature prize was "'Let it Be' Time for Summer," which featured a bistro set and fire pit donated by BKD and DonJon Shipbuilding, a gas grill donated by National Fuel, and a golf getaway donated by Peek'n Peak.
Raffle tickets were also available for prizes that included Luke Bryan tickets, New York Yankees tickets, jewelry and other fun summer items.
For lunch, The Ambassador served a tasty "Strawberry Fields Forever" salad. A great time was had by all!
Thanks to all who attended and also to our corporate sponsors at Saint Vincent Hospital, Highmark Blue Cross Blue Shield and First Niagara.