Keystone Donates $23,5000 for Preschool Scholarships
Posted on July 5th, 2013 at 1:59 PM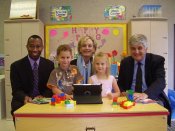 Keystone Health Plan West – a Highmark Company recently donated $23,500 through the Educational Improvement Tax Credit Program to fund preschool scholarships to qualifying students. The EITC program enables businesses to make a contribution and receive a reduction in their Pennsylvania taxes. Since 2009, 165 scholarships have been awarded to make quality preschool available to area children.
For more information about the EITC program, please contact Dr. Barber-Carey at (814) 878-5903 or MaureenBarberCarey@BarberInstitute.org.
Pictured: Neil Parham, M.Ed., left, Senior Community Affairs Specialist at Highmark, Inc., joins Dr. Maureen Barber-Carey, executive vice president of the Barber National Institute and Gary Bukowski, CFRE, vice president for Advancement, in visiting Philip and Sara Bayhurst, Happy Hearts preschool students at the Barber National Institute.