Ice Water Rescue Course Held over Weekend
Posted on February 18th, 2014 at 4:18 PM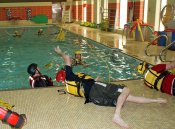 This past weekend, volunteer members of the Water Rescue Teams from the West Lake Fire Department and the Lake City Fire Department participated in an Ice Water Rescue Certification Course taught by the Pennsylvania Water Rescue Instructors Association. This class consisted of classroom and practical hands-on training which prepares rescue personnel to evaluate and respond to ice related emergencies. The Barber National Institute happily opened its doors for these volunteers to provide them with training time in our pool so that they could learn the proper uses of ice rescue equipment, in addition to direct contact ice rescue techniques. These volunteers are such a vital part of our community and we were thankful to be able to give back to them. The participants were:
Instructors
Mike Noe
Jake Hoovler
Participating Departments:
West Lake Fire Department

Chief Kirk McCaslin 481

Captain Dominic Quadri 492

Lt. Markus Calavoda 48L5
Lt. Gary Rictor 48L8
Lt Joseph Bracalento 48L9
F.F., Richard Adams Jr.
F.F. Mathew Heath
F.F. Christopher Herman
F.F. Joseph Maffeo
Lake City Fire Department
F.F. Tim Olesnanil
F.F. Gregory Summerson