Happy Hearts Child Care Center Awarded Advancement
Posted on November 13th, 2013 at 3:21 PM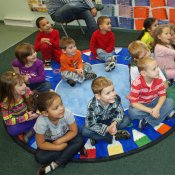 Barber National Institute's Happy Hearts Child Care Center was awarded advancement in Pennsylvania Keystone STARS program, and is now recognized with a Keystone STAR 3 designation.
"We've always known that our experienced teachers and staff provide the highest quality education and it's great that our new STAR 3 designation confirms this belief," Nina Wolfarth, Barber National Institute's Early Care Coordinator, said. "Moving up to a Star 3 quality rating tells parents that their children are in a supportive early learning environment that meets very high standards."
For a Keystone STAR 3 rating, the Barber National Institute had to meet research-based standards for program quality. All lead teachers in Keystone STAR 3 centers and group child care homes must have a minimum of an Associate's degree in early childhood education, assess children's progress three times a year, and hold at least two family conferences each year to discuss the child's progress and behavioral, social and physical needs.
"Our organization is very much committed to meeting these standards every day because we have long recognized that a quality early childhood education can make a tremendous difference in a child's life," Wolfarth said. "There is an increasing amount of research that shows that quality early education increases a child's likelihood to do well in school, graduate high school and attend college or job training."
Happy Hearts Child Care Center offers families flexible scheduling and small class size with an innovative curriculum that includes options for art, gym and music classes. For more information, contact the center at (814) 453-7661, or at ninawolfarth@barberinstitute.org.