Fun At Field Day
Posted on May 31st, 2012 at 6:43 PM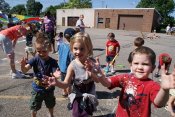 What's the best way to celebrate the coming summer vacation? How about with relay races, karaoke and a giant parachute! Students and faculty at the Elizabeth Lee Black School enjoyed these and other fun activities at their annual Field Day on Wednesday, May 30.

More than 240 students from 22 classrooms, ranging from preschool through high school age, took turns visiting a variety of recreational activities including a Disney Bounce, a safety obstacle course, relay races, karaoke, chalk drawing, parachute play and a visit from "Clutch," the Erie Bayhawks mascot. All events were tailored to accommodate varying abilities so that all children could participate and have fun.

Following the event, students were treated to a picnic lunch. Parents were also invited to the day that that has become a tradition to celebrate the end of another successful school year.