Free Week of Happy Hearts Preschool - Limited Time Only!
Posted on August 2nd, 2012 at 6:57 PM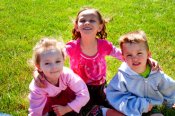 Receiving quality early education is more important than ever, and Happy Hearts Preschool and Childcare at the Barber National Institute gives all children an opportunity to learn and grow. For a limited time only, new students can receive one week free of Happy Hearts Preschool with enrollment.
Happy Hearts has more than 50 years of experience in the field of education with certified teachers. The inclusive program serves typical children, as well as children with identified developmental delays. Preschoolers will have access to integrated technology in the classroom, gym and art classes, therapies, children's choir and many more innovative services.
The school year begins Monday, August 27; however, registration is ongoing. Only new members who enroll are eligible for the free week. Coupon expires 12/31/2012. For more information about the preschool program, contact Nina Wolfarth at 878-4080 or visit the Happy Hearts page.