Erie Insurance Volunteers Lend a Hand at BNI Gardens
Posted on June 15th, 2012 at 6:34 PM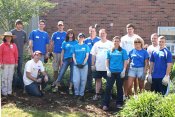 Members of the finance department at Erie Insurance had a chance to leave their offices and computers Friday, June 15 to spend the summer day working outdoors. About 13 volunteers arrived early to the Barber National Institute to help give the grounds around the Erie campus a summer makeover as part of a community outreach initiative.

A few years ago, the finance department wanted to begin dedicating time to their neighbors in the community. Randy Peterman, senior vice president of financial planning and analysis for Erie Insurance, thought the Barber Institute would be a great fit for the insurance company's philosophy.

This is the third time the volunteers have made the trip to the Institute - twice last year during the fall and summer, as well as the most recent visit last week.

The enthusiastic volunteers, thrilled to be a part of the project, spent most of the day clearing an area to make room for more plants in the garden.

"We love coming out here!" said Aron Dahlkemper, senior finance business partner at Erie Insurance, "The grounds are nice and we are happy to pitch in for the kids who benefit from Barber Institute services."

Donelle Noble, gardener for the Insitute, is especially thankful for the extra help the volunteers provided in the gardens.

"We are grateful that volunteers come to help with the beautification of the gardens surrounding the Barber Institute," said Donelle, "It's really all for the kids."