Erie Bayhawks' Justin Brownlee visits BNI
Posted on March 10th, 2014 at 5:55 PM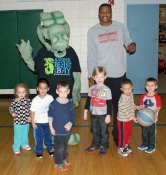 Our students watched in awe as Bayhawks forward Justin Brownlee took shots in the gym. His first shot went in.
"Yeah!" they cheered.
His second shot went in.
"Woo!" they cheered.
His third shot clanked off the rim.
"Awwwww!"
Tough critics they may have been, but our students had a blast meeting Brownlee and shooting baskets with him. The day started with everyone circled around the gym, cheering with pom-poms as Brownlee arrived. He went around to each classroom and passed the ball with several students, making sure to interact with as many as he could. Then, he shot baskets with a few of our students before more and more came out on the court. Eventually, it became a free-for-all with Brownlee in the middle, playing and having fun!
Our time with the Bayhawks ended with autographs and a great appreciation for Justin's time. Thank you for the fun!
Come see the Bayhawks play on Saturday, March 29 and support the Barber National Institute, the non-profit of the night!