Employees Recognized at SGE Awards
Posted on July 23rd, 2018 at 3:30 PM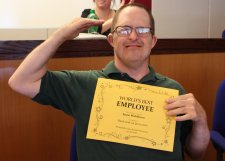 Over 20 individuals in the Small Group Employment (SGE) program gathered in the Barber National Institute's forum for a presentation and award ceremony on Friday, July 20th. These employees were recognized for their exemplary service to the Institute by their employers and fellow faculty and staff.
Individuals were awarded certificates for their outstanding and dedicated service in their respective areas, such as landscaping or janitorial work. Those with perfect attendence were gifted $5 Wal-Mart gift cards. Regardless of what it was for, each award given was met with a round of applause and cheers.
After the ceremony, the members in SGE were treated to a talk about registering for the 2018 Beast on the Bay Adapted Course, where many expressed their excitement to participate in the event on September 8th.
Additional Photos