Elizabeth Lee Black School Receives Prestigious Award
Posted on January 16th, 2015 at 7:06 PM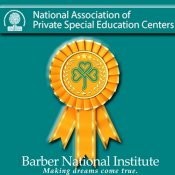 The Elizabeth Lee Black School at the Barber National Institute has received the Award for Leadership and Innovation in Special Education from the National Association for Private Special Education Centers (NAPSEC.) The honor will be formally presented next week at the organization's annual conference that is attended by educators and disabilities advocates from around the world.
This prestigious award recognizes the school's consistent efforts to ensure that children with disabilities receive the many benefits that digital technology offers for state-of-the-art education. In particular, the school is being recognized for an artist-in-residence project that brings a professional artist together with students and faculty to create multimedia publications such as digital books, movies and animations that reinforce or expand upon concepts taught in the classroom. Many of the students create "social stories" that help them achieve their individual communication or behavior goals.
"Digital technology continues to change society, self-expression and education, but too often children with disabilities are left behind," said Dr. Maureen Barber-Carey, executive vice president of the Barber National Institute. "We are intent on bridging the digital divide for our students, and use technology to broaden their opportunities for learning."
The Elizabeth Lee Black School serves more than 220 students from 20 school districts in northwestern Pennsylvania. Students range in age from 3-21 and are diagnosed with autism, intellectual disabilities, physical challenges, and sensory and mental health issues, as well as typically developing preschool children.
According to Dr. Barber-Carey, iPads are available in all 22 classrooms, along with as a variety of applications that focus on classroom lessons as well as building creative and communication skills.
NAPSEC, with headquarters in Washington, DC, is the largest national organization representing private special education programs, offering services and alegislative agenda that address the needs of educators in the disabilities fields.