Courtyard Marriott Named Employer of the Year
Posted on October 22nd, 2019 at 6:38 PM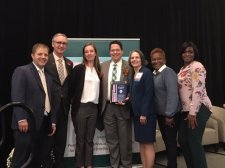 The Courtyard Marriott on City Avenue has done more than provide community employment for five adults with intellectual disabilities in the Barber National Institute Supported Employment Program. The hotel staff and administration have provided an environment that has fostered greater independence, community inclusion and feelings of self-worth for the adults.
For their commitment to successful employment, The Courtyard Marriott was awarded the Southeastern Employer of the Year Award by PAR, Pennsylvania Advocacy and Resources for Autism and Intellectual Disability. The honor was presented at this year's annual conference held in Harrisburg.
The hotel was nominated by Gale Williams, supervisor in the Supported Employment program, who said that the business stood out for fostering a happy and safe environment for the adults they employ.
The Courtyard Marriott first contacted Barber Institute when they opened the hotel in the neighborhood in 2016. "Right from the start, they were enthusiastic about creating a collaborative partnership that would bring adults with intellectual disabilities into their workforce," said Gale.
Since hiring its first employee from the Supported Employment program in 2017, Gale said that the Courtyard Marriott has demonstrated a commitment to helping adults achieve success. The five adults are currently working in various positions in the hotel bistro, laundry and maintenance department. "The positions highlight the individual's strengths and provide the greatest options for success," said Gale. "The Marriott maintains an open dialogue with our staff and has said they will provide an interview to any other adults who might be a good fit."
The Marriott advocated not just among their staff on City Avenue, but also to their affiliated hotels in other locations. According to Gale, "This type of commitment allows more people to have access to these wonderful and life changing opportunities to meet new people, earn money, and make an impact in and around their communities."
Photo:
PAR President and CEO Mark Davis, second from left, presents the 2019 Southeastern Region Employer of the Year Award to Laura Williams and Ron Balle, third and fourth from left, from the Courtyard Marriott City Avenue. Congratulating the hotel staff are Barber National Institute staff including, from left, Thad Jackman, director of southeast regional programs; Carrie Kontis, vice president for intellectual disabilities services; supported employment supervisor Gale Williams and Monique Holmes, adult day program supervisor in Philadelphia.