Celebrate Art Show
Posted on March 22nd, 2019 at 8:10 PM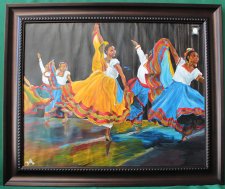 One of the region's largest and most eclectic art exhibits will be here soon when "Celebrating the Possibilities," the Jay & Mona Kang Art Show & Sale, opens at the Barber National Institute, April 5 – 8.
The show will feature a wide range of paintings, sculptures, photography and other media submitted by more than 230 professional and amateur adult artists and more than 200 youth from throughout the tri-state area, including the work of students and adults at the Barber National Institute.
This year's exhibit will be held:
Friday, April 5 – The show opens at 10 a.m., with a community Wine & Cheese Reception from 5 – 8 p.m.
Saturday, April 6 – noon – 3 p.m.
Sunday, April 7 – noon – 3 p.m. with family-friendly activities including arts & crafts and an art scavenger hunt for children; youth artist award presentation at 1 p.m.
Monday, April 8 - 1 – 6 p.m.
A panel of judges from the community will select cash award winners, but all visitors can cast their ballots for the People's Choice Awards presented to one youth and one adult artist following the show.
Many pieces of artwork are for sale, and the Barber Foundation receives a commission from each purchase. Admission is free of charge. Information is available at BarberInstitute.org/artshow.