Camp Shamrock Visits WLD Ranch
Posted on July 11th, 2012 at 7:06 PM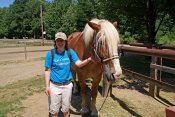 Hayrides, horses and hot weather! Youngsters and young adults in Camp Shamrock had lots of fun on a field trip to WLD Ranch on Wednesday, July 11.

The visit began with a hayride around the 50-acre ranch, located in Girard, and ended with an outdoor picnic lunch. Campers even got to pet and brush the horses, too.

Openings are still available for Camp Shamrock, a summer recreational program for children and teens ages 5-21 with an intellectual disability and/or autism, and in Beyond Camp Shamrock, a camp for young adults. Campers participate in many activities including field trips in the community, pool and gym time and also arts & crafts. The camp is staffed by trained recreation aides, certified pool instructors, professional supervisors and a nurse.

The camps run weekly until August 3. FSS allocations may be used. Learn more by calling 878-5931 or by clicking here.