Barber National Institute Offers Tips for a Not-So-Spooky Halloween
Posted on October 25th, 2023 at 1:37 PM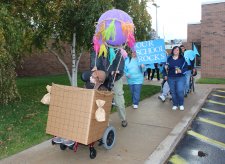 Erie, PA (October 25, 2023) – Barber National Institute, a nonprofit organization that provides programs and services for children and adults with autism, intellectual disabilities and behavioral health challenges, offers tips for a not-so-spooky Halloween.
"Dressing up as a favorite superhero, trick-or-treating for goodies, and spending the evening with friends are just a few reasons why Halloween can be such a fun holiday for parents and children alike," said Barber National Institute Executive Vice President Dr. Maureen Barber-Carey. "However, for many children with autism, this night also has the potential be a difficult and stressful time of year."
Barber-Carey offers some ideas for families of children with special needs to make sure everyone has a safe and fun Halloween.
– Practice: Try on the costume, including makeup or masks, to make sure he/she is comfortable; walk the route you intend to take; and talk about what will happen after trick-or-treating. Predictability is key to helping children with autism feel safe and calm.
– Role play: Like practicing, role-playing provides structure and outlines specific behavior for trick-or-treating. Halloween is also a great opportunity to reinforce good manners, such as waiting their turn to ring the doorbell, saying "Trick or Treat," only taking one treat, and always saying "thank you" before leaving.
– Be aware of sensory triggers: Although Halloween decorations can be very entertaining, flashing lights or loud sounds may evoke unpleasant sensory reactions in your child.
– Flashlights: Carry one to help him/her see in the dark/dim evening. It gives them a sense of comfort and some means of control.
– Know your limits: As soon as you see your child becoming over-stimulated or agitated, it's time to go home. It's okay to end the evening earlier than planned.
– Pass Out Candy: This can be a fun alternative for the child who might find it too stressful to go door to door.
"Always ask yourself, will my child truly enjoy this or will I? Let that answer be your guide in what you choose to do and not do this Halloween," said Barber-Carey.
-30-
About the Barber National Institute
The Barber National Institute provides children and adults with autism, intellectual disabilities, and behavioral health challenges and their families the education, support, and resources needed to be self-reliant, independent, and valued members of their community. In addition, we provide the professionals who serve them with world-class education and training. Its Elizabeth Lee Black School is a nationally recognized school of excellence that serves a very diverse group of learners.
The Barber National Institute serves more than 6,000 individuals statewide with offices in Erie County, Pittsburgh, Somerset, Bedford and Philadelphia, PA. The Barber National Institute employs over 3,000 people.