Barber Beast on the Bay Sponsor Lunch Held Thursday
Posted on February 7th, 2014 at 5:04 PM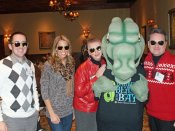 The Barber National Institute held a sponsor lunch Thursday to recognize last year's sponsors for the Barber Beast on the Bay and make a pitch for sponsors this year.
The lunch, which was held at the Ambassador's Hemingway Room with a packed house, featured a presentation that highlighted why sponsoring the event or helping to partcipate is beneficial for companies. We have a special -- and perhaps the only one in existance -- obstacle course that meets the needs of those with disabilities. The Maureen Riazzi Adaptive Course, a 1.5-mile obstacle course, is all-inclusive and makes sure that anyone can finish. There's also our 10-mile obstacle course for our other competitors. It concludes with a great party at Waldameer Park.
If you or someone you know would like to be a sponsor, fundraise, or help to build an obstacle, click here for more information or contact Laura Schaaf at LSchaaf@barberinstitute.org.