Autism Day Set for March 23
Posted on March 1st, 2013 at 8:49 PM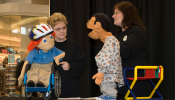 In anticipation of Autism Month in April, the Barber National Institute will host Autism Awareness Day on Saturday, March 23, from 11:00 a.m. - 3 p.m. at the Millcreek Mall. Activities will be located in the center concourse next to the Easter Bunny.
Children are invited to enjoy free crafts, face painting and visits with the beloved children's book character Curious George. Kids on the Block puppet shows will be performed at noon and 1:30 p.m. Barber National Institute therapy dogs Gino, a four-year-old Dogue de Bordeaux, and Emma, a two-year-old Shih Tzu, will be there for "Story Tails," a time to greet children and join them for story time. Barber Institute staff will also be on hand to answer questions from families.
The Centers for Disease Control (CDC) reports that autism is now diagnosed in one out of 88 children, an increase of 78% over the previous five years. By comparison, this is more children than are affected by diabetes, AIDS, cancer, cerebral palsy, cystic fibrosis, muscular dystrophy or Down syndrome – combined.