Artwork Submissions March 8 - 10
Posted on March 9th, 2018 at 7:01 PM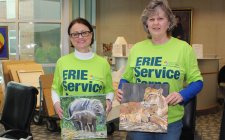 Thanks to volunteers from Erie Insurance for helping with the Artwork Submission Dates for the Jay & Mona Kang Art Show & Sale!
The Barber National Institute Art Show & Sale is one of the largest and most diverse Art Shows in the region, with paintings, photography and sculptures from over 500 youth, adult amateur, and adult professional artists. The four-day event takes place in the north lobby at the Barber National Institute's Main Campus. Admission is free of charge; ample free parking.
Friday, April 13, 10 a.m. - 8 p.m.
Public Sculpture Ribbon Cutting 11 a.m.
Wine & Cheese Reception 5 p.m. - 8 p.m.
Saturday, April 14, noon - 3 p.m.
Sunday, April 15, noon - 3 p.m.
Youth Artist Award Presentation 1 p.m.
Family-friendly activities
Monday, April 16, 1 p.m. - 6 p.m.