Artists Working Together
Posted on May 7th, 2020 at 5:00 PM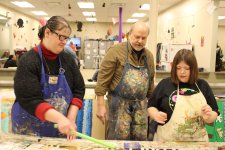 Frank Fecko, fine arts supervisor at the Barber National Institute, brought together four adult artists to collaborate on a painting. The artists are all part of the Community Participation Support program, which enables adults with intellectual disabilities to become more involved with their community.
Over the period of a couple weeks, Frank utilized the strengths and abilities of each artist as they worked together to create a masterpiece and foster social engagement.
The inception of the project came when Frank encouraged Donna Straight to create artwork for the show. Because she has limited mobility in her hands, Donna outlines the piece with a laser affixed to her headband while Frank follows the laser closely with a pen to capture the idea.
The design was then projected onto a large canvas and retraced with chalk. From there, Alfred Brown carefully layered scotch tape over each of the lines leaving the rest of the canvas ready for painting.
Inna Dovbush and Sarah Shaffer took over adding a little color to the piece. While one dripped paint along the surface of the canvas, the other spread it with a roller. Once satisfied with the painting, Inna and Sarah peeled the tape off to reveal the chalk lines once again.
For the final phase of the project, Alfred returned to paint over the now exposed lines with a variety of colors. The resulting piece, "Pathfinders," will be available for auction at the upcoming Jay & Mona Kang Digital Art Show.