2021 Art Show Call for Entries
Posted on January 15th, 2021 at 5:15 PM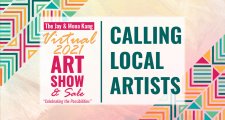 Youth and adult artists are invited to submit their artwork for the Jay & Mona Kang Art Show & Sale at the Barber National Institute. No-contact art submission will be held at the Barber National Institute Main Campus on Thursday and Friday, March 11 and 12, from 11 a.m. – 4:30 p.m., and on Saturday, March 13, from 10 a.m. – 2 p.m. Masks must be worn when dropping off artwork.
Forms of artwork accepted include paintings, drawings, fabric, sculpture and photography, and each artist can submit up to two pieces of work.
Youth artists (up to age 18 or high school students) can submit their work free of charge. Adult artists will be charged a $20 fee per piece of artwork.
More information and entry forms are available in the Call for Entries posted here or by calling the Barber National Institute at 814-874-5603.
This year's show will be held April 12 – 22 at the Barber National Institute.