2017 Art Show Awards Presented
Posted on April 18th, 2017 at 1:00 PM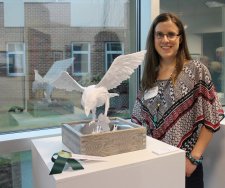 Awards were presented at the Barber National Institute for one of the region's largest exhibits of area artists. More than 255 adult artists and more than 250 youth artists had their work on exhibit at the 10th Anniversary Art Show & Sale, which was held April 7-10, 2017 at the Main Campus in Erie, PA.
In addition to the pieces selected by a panel of judges, visitors to the show cast ballots for the People's Choice Awards. Rebecca Merry won the award for adult artist for her paper sculpture, Eagle. Victoria Quirk, a junior at Villa Maria Academy, won in the youth category for "Obi," a colorful acrylic painting of a dog's face. All winners receive cash awards.
The community is invited to enjoy the show that features an eclectic variety of more than 500 pieces of artwork, including paintings, drawings, sculpture, fiber and photography. Next year's show will be held in April 2018.