10th Annual Art Show and Sale Kicks Off
Posted on April 2nd, 2017 at 2:11 PM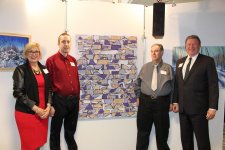 Don't miss one of the largest and most diverse Art Shows in the region, with paintings, photography and sculptures from youth, adult amateur and adult professional artists.

Cast your vote for the People's Choice Award! Admission is free of charge; ample free parking. Gift Shop open throughout the Show.
Friday, April 7, 10 a.m.-8 p.m.
Public Wine & Cheese Reception 5-8 p.m.
Saturday, April 8, noon-3 p.m.
Sunday, April 9, noon-3 p.m.
Youth Artist Award Presentation 1:00 p.m.
Family-friendly activities
Monday, April 10, 1 p.m. -6 p.m.
Additional Photos