The Beast Roars for Second Straight Year
Posted on September 9th, 2014 at 4:44 PM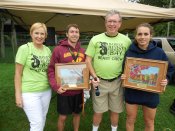 There was already 10 miles filled with sand, mud and over 20 obstacles. What more would a little rain be?
Despite a morning drizzle, nearly 1,300 participants took to Presque Isle State Park to tackle the 2nd annual Barber Beast on the Bay on September 6. The number includes the regular 10-mile course and the adapted course, which provided an obstacle course challenge for those with physical or developmental disabilities.

All participants received a t-shirt, a medal, and a sense of accomplishment for finishing the challenge. It was a great time, and we'd like to thank everyone for helping to make it so successful.
For pictures of the event, please visit: https://www.facebook.com/BarberBeastontheBay?ref=bookmarks