The Barber Beast is Slain!
Posted on September 12th, 2016 at 6:54 PM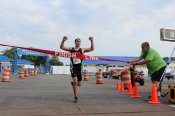 Over 1,150 participants took on this year's Barber Beast on the Bay, with an additional 100+ taking on the Barber Beast Adapted Course.
Participants tested themselves over sand, trails, water and 29 obstacles on the 10 mile obstacle course along the shores of Lake Erie at scenic Presque Isle State Park. They climbed, crawled, pushed and pulled their way from the start line at Beach 11 of Presque Isle to the finish line at Waldameer Park and Water World.
Check out www.barberbeast.org for all the news and photos related to the Beast!