Teacher Awarded
Posted on March 4th, 2021 at 3:04 PM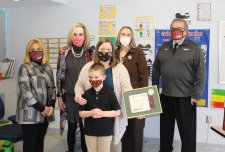 Congratulations to Ashleigh Dzurik, a teacher in the Elizabeth Lee Black School, who received the "Golden Apple Award" sponsored by Edinboro University and WJET/Fox 66. Ashleigh was nominated for this honor by Alex Pelc and his mother, Tricia Pelc. Because of Ashleigh's dedication and support, Alex achieved so much progress that he was able to transition to his home school district.
Ashleigh has been a faculty member at the Elizabeth Lee Black School for 16 years, currently in a classroom working with students with autism. She is one of a great team of faculty who do such amazing work, especially amid the challenges of this pandemic.
We invite you to watch the award presentation to hear Ashleigh talk about her work, as well as comments from Alex and his mom.