Supercalifragilisticexpialidocious Fun!
Posted on April 9th, 2014 at 6:19 PM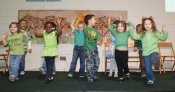 Favorite songs from popular Broadway shows and Disney movies were enjoyed in a new way when the Barber National Institute and the Erie Playhouse Youtheater staged a musical revue on Wednesday, April 9. Students and faculty from the Elizabeth Lee Black School used dance and movement to interpret the songs in a performance that began at 10:00 a.m. in the Barber National Institute Gym.
Students from preschool through high school classes will pantomime beloved classics from shows that include "The Lion King," "Wicked," "Newsies," and "Tarzan." The performance from "Annie" is expected to include a cameo appearance from Jessie, one of the therapy dogs who visit the Barber National Institute. Some classes used their iPad to create their presentation with video and graphics. Students have also assisted in the creation of scenery and stage props.
The collaboration provides students with the opportunity to participate in the performing arts and build performance skills. Classes have been working with staff and volunteers from the Erie Playhouse Youtheater over the past several weeks.
This marks the sixth year for the program, which is funded through Erie Arts & Culture and the Schuster Re-Grant Initiative with Gannon University.