Students Rock the Stage at Annual Holiday Show
Posted on December 12th, 2013 at 7:55 PM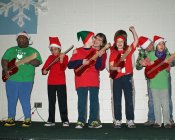 From traditional favorites such as "Jingle Bell Rock" to holiday movies created with iPads, students in the Elizabeth Lee Black School had what it took to put everyone in the Christmas spirit with their annual Holiday Show on Thursday.
The longstanding school tradition featured performances by classrooms from preschool through middle school that included singing, dancing and stories. One skit even included a guest star, Jessie, a therapy dog who routinely visits the school.
Many of the classrooms spent weeks creating elaborate costumes and stage props for this once-a-year event.
For the first time, the show also included holiday movies that were created by the high school age students using their iPads. The tablets are now used in every classroom, thanks to donations made to the Dr. Gertrude A. Barber Foundation.
"In addition to being a celebration of the holiday season, this is also a celebration of the abilities of all children," said Dr. Maureen Barber-Carey, executive vice president of the Barber National Institute. "Many of our students are non-verbal or have physical challenges, yet our faculty makes it possible for everyone to participate to their fullest. Their show is one sure way to get into the holiday spirit."
Classrooms for high school age students also worked on the design of the set decorations and served as members of the stage crew.
The performance was followed by the drawing for the 50-50 raffle sponsored by the school parent group. Chris LaCour was the winner and she bought her ticket from her grandson Carter Smith, who is a student at the school. Carter was sick Thursday, so his father made a special trip to the Barber Center this morning to drop their tickets off.
The morning concluded with a "surprise" visit from Santa. More than 300 family members and guests were in attendance for this festive and fun day.
Additional Photos