Students Beautify Barber National Institute Playground
Posted on March 29th, 2012 at 7:08 PM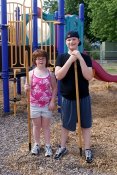 Students from the City of Erie School District spent last Friday morning hanging out at a playground. But instead of swinging and sliding, they dedicated their time getting the Barber National Institute playground ready for summer.

As part of a summer program, students from the Roosevelt and Wilson Middle School life skills classes and students from Central High School's life skills and autism program, volunteer at locations across the Erie community. The students work involves mostly cleaning and landscaping at sites including the Barber National Institute, Jerry Uht Park and the ExpErience Children's Museum.

"Volunteering at organizations in Erie teaches the students work skills that they can use after they graduate," said Kristine Redmon, special education teacher at Central High School.

The students spent much of the morning raking, spreading and dumping mulch around the playground equipment to be ready just in time for youngsters participating in the many summer programs at the Institute, including Camp Shamrock and the extended school year.